Welcome to etc

"The World as it Happens"
WELCOME TO
etc. is a current events newsletter that will be posted on the first Monday of every month. You can use its discussion ideas and multimedia resources, including articles, videos, podcasts, and websites, to get conversations started in your classroom.
Sign up to receive etc. and its resources right in your inbox. You will also get your choice of a free interactive eBook you can use in your classroom to dive deeper into a current event topic.
Let us know how you used your interactive eBook and the multimedia resources in your class, and you'll be entered to win a one-year subscription to AV2 K–2 ($1,427 Value), AV2 3–6 ($1,499 Value), AV2 Fiction ($1,714 Value), AV2 World Languages ($499 Value), or EyeDiscover ($399 Value).
We hope you're just as excited as we are to start sharing your love of learning with your students. The world is full of amazing and unbelievable ideas, and we can't wait to explore them with you.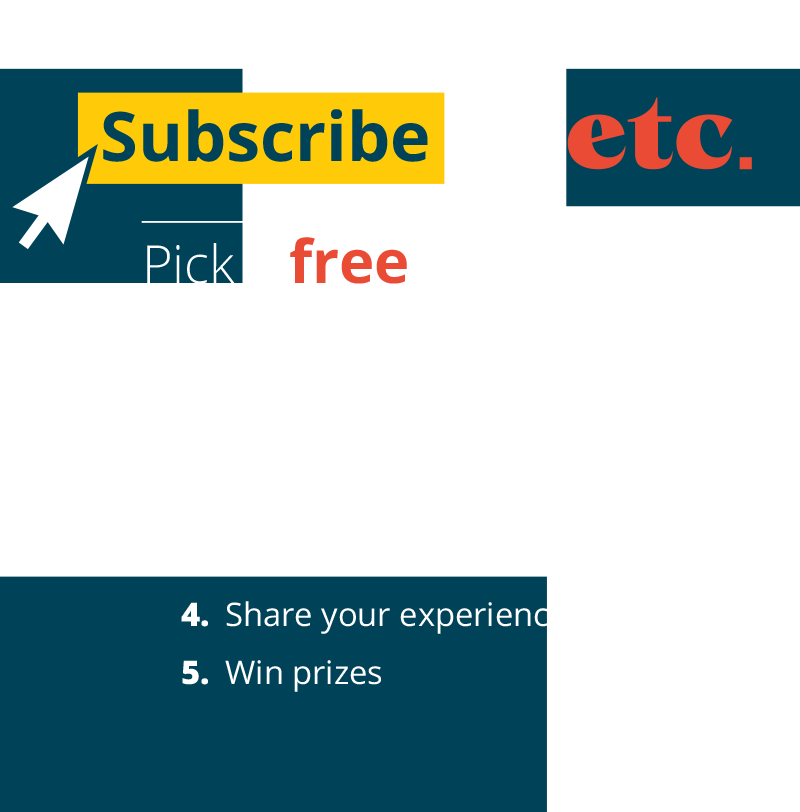 Publisher's Message
Why etc.?
Have you ever felt the need to talk with your students about "happening" issues? Maybe it's to get them focused on thinking and being creative before a heavy science class or a meaty social studies history lesson. Maybe it's before a sensitive health topic. Do you wish current affairs found their way into your classroom discussions with students?
Most of us who are passionate about education try to read about current events and hot topics every day. As lifelong learners, we continue to seek new knowledge about the world around us. We feel an obligation to stay informed when facts and information change. We are enlightened by what we read and try to share what we have learned with those around us. We wonder how we can help students feel inspired by the things they read. How do we get them to put down their smartphones and video games and take a deeper interest in the world around them?
At AV2, we continually look for exciting and engaging ways to bring the life lessons of STEM, history, and literature to the forefront in our books. But above all else, we need to cover core curriculum. Other ideas and topics typically fade into the background. I thought there had to be something we could do to ignite the spark of curiosity about topics that stretch beyond the classroom walls.
I started thinking back to my days as a teacher. I remember the look of excitement on my students' faces when a lightbulb went on and they saw how their learning connected to the real world. At that moment they felt their education was meaningful and worthwhile.
As a publisher, I start each morning by choosing and reading news stories on topics of great urgency or just personal interest. Every day, I see the connections between these readings and the books we've published or are about to publish. This motivated me. Why not share these current topics with our AV2 community? Why not see if teachers and librarians want to use them in their interactions with students?
Sincerely,
Linda A. Weigl